In this week's post we'll take a quick look at this past Sunday's worship but then, as you'll see below, I'll take a few moments to explain that most ubiquitous of worship words: hallelujah.
Since we were beginning our new sermon series on Genesis, the major theme that ran throughout our service was God's good creation:
Sunday, September 18, 2016:
Gathering:
Call to Worship: ↴
"Oh, Our Lord" (Paul Baloche & All Sons and Daughters)
     – with Psalm 8
"All Creatures of Our God and King" (Francis of Assisi [arr. David Crowder])
Service of the Word:
"We are Saved" (Baloche, Fielding, Ingram)
"Cornerstone" (Hillsong)
Prayer
Scripture Reading: Genesis 1:1-2:3
Sermon: Creation
Response:
Pastoral Prayer
Offering
"At Your Name" (Tim Hughes & Phil Wickham)
Sending:
"Indescribable" (Chris Tomlin &  Laura Story)
Closing Prayer
So, yes, the overarching theme was creation, however, there is clearly more going on here than just praising God for his creation. As I was talking with Heather this week (she was the one who selected the music for the service) she had assembled a numbered of songs all emphasising creation but then she paused and said, "… something's missing.  We're only telling one part of the Story." I was really excited that she identified the missing elements because, while it's awesome to have certain emphases, we can't not tell the Story of Jesus simply because we're talking about Genesis 1.  It's not either/or.  
And so, with the addition of "We are Saved" and "Cornerstone" all the pieces fell together: we could now proclaim that it was through Jesus that the world was created and it is also through Jesus that we are redeemed and made into a new-creation!
That was the Story this week.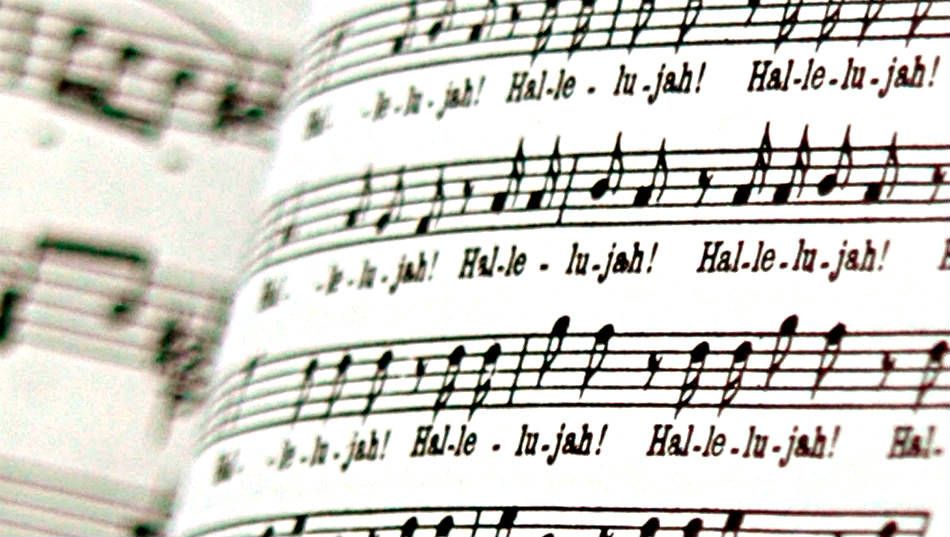 OK, so what's the deal with the word "hallelujah"?
During the service I was playing drums and singing along and, as we sang "All Creatures of Our God and King" it struck me that we were singing "alleluia" a whole bunch of times and there are probably a whole bunch of people in our congregation who might not know what that means.
So, what does it mean?
Well, in short, hallelujah / alleluia simply means "praise God!"
Hallelujah is a Hebrew word. The first half of the word comes from "hallel" which means "to praise" and the second half is "Yah/Jah" which refers to God's name "Yahweh" (see Ex. 3:13-15).  And so, hallelujah means "Praise God / Praise Yahweh." Alleluia is the same thing; it's just based on the Greek spelling instead of the Hebrew spelling.
And so that's why these words show up everywhere. For the past 3 or 4 thousand years, all of God's people have shared together in this same word of proclamation which summarises all of our worship: hallelujah!